FAA Drone Certified – Aerial Drone Home Inspection Services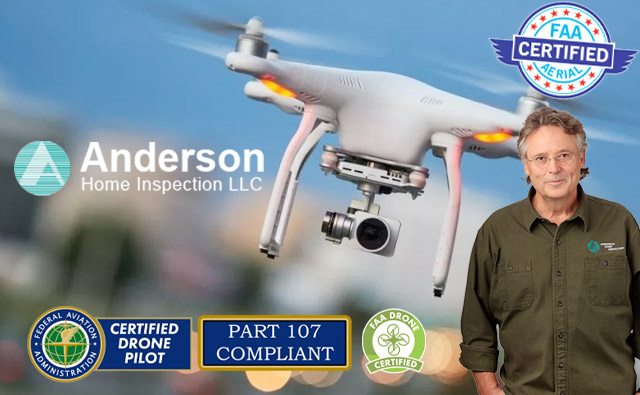 Donn Anderson is an FAA Certified Commercial Remote Pilot.
Within FAA guidelines, as weather permits, Donn typically inspects roof coverings, chimneys and flashings that can't be inspected by those who can't access a steep or brittle roof or a chimney that can't be reached without special equipment.
Did you know that water is the worst enemy of a home?
The first lines of defense are roof flashings and penetrations such as the chimneys and plumbing stacks. Home inspectors are not required to climb roofs.
If a roof is too steep or a chimney is too tall to see the crown, how would you know whether or not there are indications of leaks?
A certified Drone inspection solves that problem.
---
Drone Home Inspection Images and Findings
2 Story Drone Roof Inspection
New Construction Ranch Drone Roof Inspection Milwaukee Area
Older Cape Cod Drone Roof Inspection Southeast Wisconsin
Aerial Drone Inspection of Clay Tiled Roof
Drone Roof Inspection: Previously Repaired and New Cracks in Chimney
Southeast Wisconsin Area Drone Capture: Cracked Chimney Crown is prone to damage from melting/ freezing snow
Drone Roof Inspection Shows Leaky Crown
Drone Roof Inspection Shows Leaky built-in gutters were not professionally patched (note over spray on shingles)
Drone Roof Home Inspection Shows Solar Panels: The sagging ridge was not evident from the ground
The rusty leaky crown would not have been noticed from below or without special equipment.
A damaged chimney flue from an orphaned water heater.
Cape Cod home inspection with aerial drone inspection, Milwaukee area.