Certified Master Inspector®, CMI
&

Coauthor of the Home Inspector Jurisprudence Exam
A home inspection is for buyers who want to know the true condition of the house. A home inspection covers all readily accessible areas of the home and focuses on the condition of systems and components.
One of the biggest concerns of home buyers and building buyers is the structure of the building. Foundation issues can be very expensive to fix, so it's important to know if the house or building you are considering purchasing is structurally sound.
Radon is a radioactive gas. You can't see radon. And you can't smell it or taste it. It kills over 21,000 people in the US every year.
Are you concerned or curious about mold in the home you may purchase? While nearly every home has some presence of mold growth, some building types have a higher prevalence of issues with mold growth.
Just like going to your doctor or dentist for a checkup, it's good to keep an eye on the condition of your home too. Whether it's annually or every couple of years, regular check-ups will save you money in the long run.
Angie's List 10 Year Super Service Award
For the 10th year, Anderson Home Inspection, has been awarded the prestigious Angie's List Super Service Award. This is an honor bestowed annually on approximately 5 percent of all the businesses rated on the nation's leading provider of consumer reviews on local service and health providers.
Visit Angies List to read or write your own reviews of Anderson Home Inspection LLC.
Here's What Our Customers Say About Us
Donn inspected the home we are purchasing and I walked away from the experience fully aware of the condition of the property. His experience and knowledge were obvious and we feel confident from his inspection to move forward with the purchase.
I highly recommend using Anderson Home Inspection for your home inspection needs. Donn Anderson has inspected two homes for me now.  Both times Donn has pointed out things that I missed on my own viewings of the properties and I used his report to get concessions from the seller in both cases. 
Donn was AMAZING!! We just purchased our first home and Donn was great with us!  He was very thorough with everything he showed us and gave us great tips on things we could do to improve things around the house that would actually help save on heating costs and such. I would recommend Donn to anyone!!!!
Our promise is to provide you with the most competent detailed home inspector/s who will inspect your home as if we were inspecting it for ourselves and our family. Since 1995, our goal is still 100% customer satisfaction.
About Donn Anderson, CMI – Certified Master Inspector®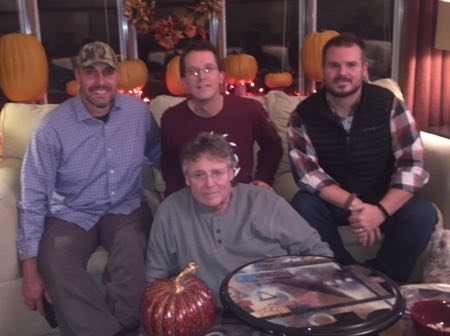 Donn is married with 3 sons and 8 grandchildren. He grew up on the east side of Milwaukee and began working in construction in the mid 60's.
From mason laborer, to project manager, Donn has been responsible for modest rehab and multi-million dollar residential and medical construction projects.
He started Anderson Home Inspection and performed his first professional home inspection in January of 1995. He has inspected over 16,000 homes in Southeastern Wisconsin since then.
He has been a member of the American Society of Home Inspectors – Great Lakes Chapter since 1996. He served as the Education Chairman for the Milwaukee Chapter of the Wisconsin Association of Home Inspectors from 1996 – 2009. He is a member of the National Association of Certified Home Inspectors. He received his Real Estate license in the mid-1980s. Donn was a co-author of the jurisprudence exam for licensing Wisconsin Home Inspectors. He holds licenses as a WI State UDC Building Inspector, an FHA 203k Consultant, and his experience includes performing Energy Audits as a Certified Consultant for the Energy Homes Performance Program.
Donn is certified as a Residential Measurement Provider by NEHA-NRPP to test for Radon. (Radon is the second leading cause of lung cancer in the US.)
He works as an expert witness for homeowners who have been exposed to substandard construction and home inspection practices.
Landscaping:
Is the earth next to the house flat or sloped towards the foundation?
Is the concrete flat or sloped towards the house?
Are there trees close to the house that may affect drain tiles or the foundation wall/s structural integrity?
Is the driveway close to the house and sloped towards the basement or foundation? These may just be maintenance issues but they can have significant financial consequences if not properly addressed.
Roof (bring binoculars):
Look for rust in metal valleys and at the chimney flashing.
Look for granular loss, cupping and curling on shingles. Look for missing mortar and caulk around the chimney flashing.
Look for both high and low roof vents.
Plumbing water pressure and signs of leaks:
While running cold water in the sink, turn on the cold water in the tub then flush the toilet.
Does the pressure drop significantly?
Are the water pipes in the basement gray (galvanized) or newer copper?
Look under sinks for signs of leaking.
Gently put calf pressure against the toilet to check for movement. Movement may indicate past or ongoing leaking.
Electrical panel:
Does the panel have fuses or breakers?
Many fused systems are only 60 amps which may not be covered by your insurance carrier.
Is Romex (non-metallic white plastic) wiring hanging loose from bottom of the basement joists or run through them?
If the wiring is hanging below the joists, the work may have been done by a handyman without the benefit of building permit.
Heating system:
Does the furnace vent with white plastic (PVC) or metal? Even High Efficiency PVC vented furnaces have been around for decades, so it may still be past its design life.
Basement:
Do basement walls have cracks (horizontal, vertical, or step cracks)?
Are there signs of moisture at the base of the walls?
Is the paint peeling from the lower course of block on the walls?
Are there signs of moisture or rot at the base of paneled walls or on the baseboard?
Are the basement walls and/or floor freshly painted?
Though some signs of moisture may be tolerable, the signs may be indicative of a more serious structural problem.